The Ceroc Australia business was sold on 25th November 2013 and is now under the management of Julie Gunn and Ceroc & Modern Jive Dance Company. Please click here to go their website for all information on classes, parties and also the Hunter Valley Weekender which will still be running on 4th to 6th April 2014.
For all enquiries, contact Ceroc & Modern Jive Dance Company on (02) 9410 1111 or email info@ceroc.com.au or refer to the Ceroc & Modern Jive Dance Company website www.ceroc.com.au
Note that any information below is no longer relevant. Please go to www.ceroc.com.au for the correct information.
Info and Prices
What to expect at a Ceroc Dance Class
A typical Ceroc Australia Dance Company night is three hours of enjoyment starting with a 50 minute Beginner class where you will learn a few basic, fun moves, rotating partners every few minutes. The classes are not run on term basis, so people can start their first class on any night without having to enrol for a course. You don't need to bring a partner and everyone gets to dance with everyone else.
The Beginner class is followed by 20 minutes of "freestyle" social dancing where you can get up and practice what you've learnt.
The class is then split into two for another 50 minute class; beginners go on to do a 'Freestyle' class, a thorough, personalised revision of the Beginner class with more tips to help consolidate what they have learnt in the first class. Meanwhile, those with more experience take the more challenging Intermediate class.
We recommend you do at least 8 Beginner and Freestyle classes before moving on to the Intermediate classes. Another way of assessing if you are ready to move up is to see if you can "freestyle" confidently. Alternatively you can ask one of the teachers for their opinion.
At some venues, Advanced classes are held as well as or instead of the Intermediate Class. Check out the Who's Teaching page to see when the Advanced classes are scheduled.
The lessons are followed by more "freestyle" social dancing where you can mix with your new friends. Most evenings end with a group stopping off for coffee at a local cafe. Dress is casual and comfortable. Shoes with leather, plastic or suede soles are good. Don't forget your towel and deodorant in the hot summer months and guys, a change of shirt!
Take a look at our Hints & Tips page. It has a lot of helpful information for new dancers.
Teachers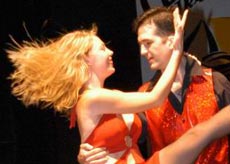 All Ceroc Australia Teachers have undergone intensive training to ensure that we give you the best possible expertise. Teachers are keen for you to enjoy the night, so why not grab one for a dance after the class. Our teachers are all featured on the "Staff" menu above.
Taxi Dancers
In addition to the teachers, we have 'Taxi Dancers' who are on hand to help you go through the moves and provide useful hints so that you will soon be dancing with confidence. They are a specially selected, friendly group of regular dancers who are specifically there to dance with beginners. Taxi Dancers are easy to spot as they have a distinctive sash tucked in their pocket or waistband. They are great help during your first few weeks of classes, and they are on duty all evening, so make sure you hail one!
Door Staff
The door staff and venue manager are on hand to run the night. They oversee admissions and new members. Please ask your door staff for information or leaflets about workshops and Dance Parties in your area.
Prices
Casual entry
$15
Special First Timers Pass
$22 for 3 classes and a Free Beginner DVD on your 4th class
(Valid for one month from your first class)
Students
$12
Students under 16
$10
5 Class Pass
$60
(if purchased before old pass finished, or at time of using last class on 5 class pass, otherwise, 5 class pass is $65. The 5 class pass is available from classes or the Ceroc Australia office and is valid for 6 months)
1 Month Unlimited Pass
$75
(available from classes or the Ceroc Australia office)
1 Month Unlimited Pass - Student
$65
(available from classes or the Ceroc Australia office)
2 Month Unlimited Pass
$130
(available from the Ceroc Australia office only)
3 Month Unlimited Pass
$190
(available from the Ceroc Australia office only)
6 Month Gold Pass
$350
(available from the Ceroc Australia office only)
Beginner Package
6 classes for $60
(once only purchase, available from classes or the Ceroc Australia office)
Please note that Credit Card transactions will incur the following fees:
(we accept Visa & Mastercard - sorry, no Diners or Amex cards)
Purchases under $50 will incur a $2 transaction fee
Purchases over $50 will incur a $3 transaction fee